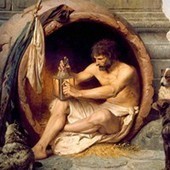 The ancient Greek philosopher Diogenes took simple living to the extreme, and lived in an old wine barrel. Painting by Jean-Léon Gérôme, used courtesy of Wikimedia Commons.
Bill Palladino – MLUI's insight:
Ancient reference points on how we should live. Small and simple was already cool a long time ago, and it wasn't just for eccentrics and radicals.
See on www.yesmagazine.org