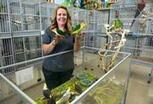 SunHerald.com
Small Business Saturday catching on as enticement to shop local
Sacramento Bee
Amid the chirping, twittering and fluttering, The Bird Shop in Sacramento has all the sounds of a bustling holiday season.
Bill Palladino – MLUI's insight:
The Small Business Saturday train marches on. While I appreciate this, it all seems a bit absurd that we're focusing on only one day each week for something so critical. Respiration Thursday anyone? Or how about Emotion Wednesday?
See on www.sacbee.com