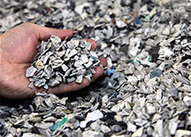 A shortage of "rare earth" metals, used in everything from electric car batteries to solar panels to wind turbines, is hampering the growth of renewable energy technologies.
Bill Palladino – MLUI's insight:
Are our assumptions about the next energy movement flawed? Where will get the materials to make all this innovative energy infrastructure? I guess "rare Earth" magnets have that name for a reason.
See on www.resilience.org