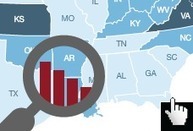 Food stamp enrollment is at record highs, and a Nov. 1 cut will reduce benefits to all 48 million Americans on SNAP. See how each state is affected with this interactive map.
Bill Palladino – MLUI's insight:
Today's the day food stamps get their cut from the feds. The cuts will hit every recipient in the country to some degree.
See on www.pewstates.org