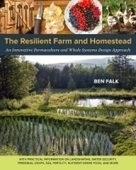 Review of The Resilient Farm and Homestead (978-1-60358-444-9): Author offers straightforward advice on how farmers and homesteaders can use the resources around them to their, and the environment's, advantage.
Bill Palladino – MLUI's insight:
A double-hit. The book provides a framework for permaculture efforts at a small scale that can aid in building the resilience of communities. The review is from our own (local northern Michigan) ForeWord Magazine.
See on www.forewordreviews.com