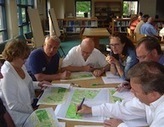 Too often community projects favor one of these approaches over the other: the design team who drops in for a week with the solution, or the community workshop that recycles the same, old idea for its downtown's redevelopment.
Bill Palladino – MLUI's insight:
The term "outsider" is fascinating in the context of development and community design. There's never any real definition of the word. I've lived in communities for a decade or more, and still been considered and outsider.
See on sustainablecitiescollective.com