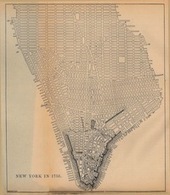 I have spent the last few days looking up and considering the architectural impact of the New York City grid-plan layout, taking a particular interest in the domestic scale elements that help to service the city and punctuate the rigidity.
Bill Palladino – MLUI's insight:
I am an admirer of the grid. Not in a Matrix sort of way, but in the organic nature of true design; how it all fits together. And also the way in which many older cities have designs overlaying centuries old patterns of community and commerce. When I was in high school in NYC, Van Cortland park had an infamous section of it's cross-country running course title The Cow Path. And that's what it was, a winding, twisting, haphazard loop around the park based on the trails cut by the Van Cortland's cattle. This article likens it all to poetry.
See on sustainablecitiescollective.com