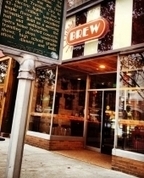 For Melissa and Sean Kickbush, brewing a strong pot of joe has become more than a morning routine: it's become a career, and now their success is creating a bit of a local economic wave.
Bill Palladino – MLUI's insight:
This is a great article about the power of local economy in real-life. Thanks to Melissa and Sean at Brew for creating such a great place. I must admit to using it as my "third place" a lot. In fact, my colleagues at MLUI often use it as our alternate conference room for meetings. Cheers too to Beth Milligan for covering the story.
See on www.theticker.tc