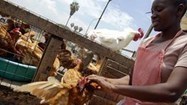 Yohannes Wolday from the Nike Foundation says the Value Girls programme has transformed the way girls live and work in western Kenya
Bill Palladino – MLUI's insight:
And from Kenya, a look at how a turn towards farming is helping young Kenyan women keep away from the only other available method of making money in this impoverished country. The sex trade is a force in this part of Africa. Learning some basic farming methods, along with a bit of business sense, is allowing these women to create their own path, while truly serving the food systems needs there. Quite a difference from the reasons we in the U.S. are drawn to farming.
See on www.girleffect.org