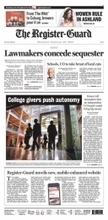 Urban farming has powerful positive influence
The Register-Guard
Urban farming, in Eugene and elsewhere, is a lot of things. It is very old and very new. It is worldwide and it is local. To some, it means a hobby that yields fresh food and exercise.
Bill Palladino – MLUI's insight:
From Eugene, Oregon: The article delineates some of the pros and cons associated with urban farming.
See on www.registerguard.com