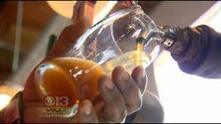 Ask someone from around here to name a beer brewed in Baltimore and they may have trouble coming up with a name. (Nice job @kevthebrewer!
Bill Palladino – MLUI's insight:
In my world beer qualifies as food. So any story that has the word beer and the word local in the title is fair game.
See on baltimore.cbslocal.com