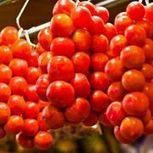 Although a potato and a tomato cannot be cross-bred, it is possible to graft together a tomato plant shoot to the rootstock of a potato plant. The grafted plant will produce both tomatoes from the tomato shoot and potatoes from the rootstock.
Bill Palladino – MLUI's insight:
Almost surprised Monsanto hasn't patented this already!
See on www.ehow.com